Yesterday I wrote
this post
and I sort of felt bad for it. I felt bad because my husband doesn't usually have to be gone for my than a week (so far) but my sisters husband has been to Iraq/Afghanistan 4-5 times throughout their marriage and they may also be apart for the next 2 years because of Marines stuff. I have blogger friends who's husbands also travel for work, sometimes for long periods of time.
But I don't feel bad because I will miss my husband, I will worry about my husband. I hate having to explain to my daughter every day that he's gone that daddy won't be home tonight. I hate the lonely nights after she goes to bed. I eat crappier when he's not home too, which is not good for my diet.
I had
Mrs. Mackenzie
comment on this post telling me that she would have a hard time if her husband travel. I told her that I do but I feel bad about complaining. She told me I shouldn't feel bad because I'm being honest and she likes honest bloggers.
Lately I've read a lot of blog post from women who want to be more honest on their blog and I'm going to follow the crowd and be more honest. I have things I'd like to write about but I don't write it because I think it may bore people. But hey, it's my blog. It's my place to vent, talk stuff out, be excited, whatever.. And I'm going to. So stick with me!
Today I'm linking up with Shell @
Things I Can't Say
.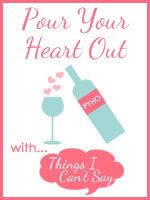 And..